DiCE.Lang as a model for project application and implementation
Prof. Dr. Christiane Lütge presented the project DiCE.Lang at the project fair of the DAAD
08.11.2021
"Guten Tag, Good afternoon, Buongiorno, Labdien and Bom dia!" with a plurilingual opening project leader Prof. Dr. Christian Lütge opened the keynote introduction of DiCE.Lang in front of interested viewers from the different education sectors. The DAAD (German Academic Exchange Service) invited the Munich professor for TEFL to exemplify the idea and a possible implementation form for Key Action 3 projects to promote civic participation.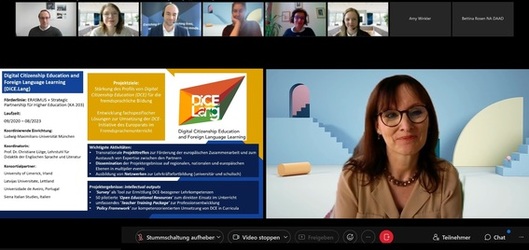 Two other projects were presented by Dr. Schmidt-Gleim from the University of Fulda, where the project "Debatting Europe" aims to close the gap between European institutions and the EU's citizens; and Mrs Arsova-Netzelmann from the nexus institute for cooperation management and interdisciplinary research, where youth role models are trained to help engage their peers in participatory action.
In the ensuing discussion the participants tackled organisatinal topics stemming from the pandemic situation, as well as methodological question of the different projects. The connecting element, however, has been stressed perceptively and firmly: Corona has shown us again what Europe could be like – closed borders and local solutions for international problems. The European initiatives promote European integration and the ongoing projects breathe life into the European idea.